Ineffective Compliance Training is a Risky Business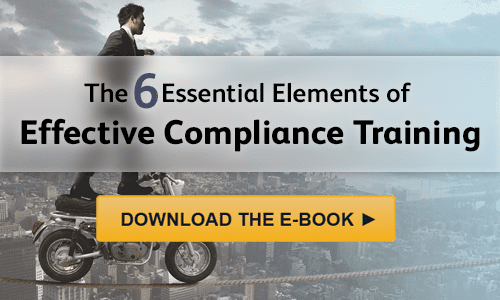 In an ever-changing regulatory environment, the job of preventing compliance incidents from happening is increasingly challenging. However, with the public's growing intolerance of misconduct, and the current era of public shaming, compliance programs must actually get people to change their behaviors.
Thirty to sixty-minute PowerPoint presentations may satisfy legal requirements to provide training, but they are rarely sufficient to inspire commitment to compliance. Innovative, engaging solutions that deliver highly-effective, individualized and lasting learning experiences that drive results.
Talk to us about creating engaging custom solutions that both meet regulatory and compliance requirements ̶ and align with your organization's procedures, culture, and philosophy.
Anti-Money Laundering
Anti-Corruption and Anti-Bribery
Clinical Trials Process
Conflict of Interest
Cybersecurity
Drug and Device Safety
Employee Conduct and Business Ethics
Equal Employment Opportunity
Fair Employment Practices
Healthcare Privacy (HIPPA)
Health, Safety and Environment
Intellectual Property Protection
Sexual Harassment
Privacy Protection and GDP
Prevention of Insider Trading
Whistleblower and Disclosure Rules